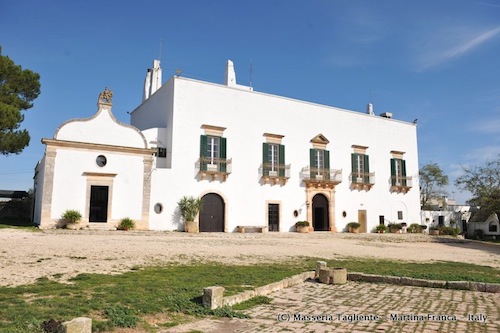 The Masseria Tagliente lies between the hills of the Murgia, an area of ​​180 hectares, consisting of an oak forest and Mediterranean scrub.
The house with the adjacent chapel is architecturally one of the most beautiful and important of its kind.
Built in 1849, it is still furnished with original family furniture and represents a rare example of the past, because it has maintained over time, without interruption, its centuries-old stately home destination resort of the owner, and an agricultural and livestock production, today forefront.
It 'a real farm, with "murgesi" horses, cows, goats, sheep and other animals.
Through trails in the woods, you can reach the "Cave of a Hundred Rooms", once a haven for bandits, and Gravina.
Around the house there are many trulli, presumably dating back to the eighteenth century, some of which have retained the original destination of ancient shelter for animals and fodder.
From the house, located at an altitude of about 420 meters you will see the Ionian Sea and the mountains of Pollino in Calabria.
Click here for Masseria's photo gallery